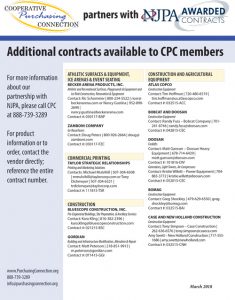 The Cooperative Purchasing Connection (CPC), a multi-region purchasing program
of eight service cooperatives, has partnered with NJPA's national purchasing
program to offer a large selection of NJPA contracts to our members. CPC and
NJPA worked together to select contracts that complement and expand the CPC
solicited contracts. NJPA chose CPC contracts to add to their offerings in Region 5.
The service cooperatives are excited to be combining our national and regional expertise to provide members with more buying power and more choice when purchasing. Plus, all of the contracts have been awarded through the required competitive process. Call us at 888-739-3289 for more information.