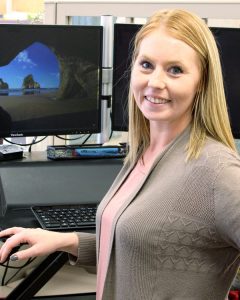 Alicia Berhow, Tri-Valley Opportunity Council
What is your official title?
Senior Services Manager
What do you like about Express and Cooperative Purchasing Connection?
When I first started at Tri-Valley in January of 2018, I was the Administrative Assistant.
I was tasked with getting supplies for the office and I was looking for something that was streamlined and easy to use for everyday items as well as the specialty items at the same time. I love that the program is so easy to use, and you can form it to meet the needs of your company.
Has using CPC/Express saved you time and money?
Our CEO mentioned that there was ordering options through the CPC site that we were a part of, so I started to do some research to see if it would be a good fit for the Tri-Valley team as a whole. It was a simple site to learn, and the staff did a wonderful job with teaching me how to use it, and to utilize the program to best fit our needs. We have many sites within Minnesota, and it was very easy to get them set up with the program. Ordering is quick, easy and very reliable.
Have you done any "big" orders through Express
Our Admin Office in Crookston is moving to a new location. We worked with the CPC vendor, Innovative Office Solutions to order new furniture for the new location. They were able to secure a discount, and the process was very easy. They were great to work with!
Click here to view the CPC Contract Catalog featuring Alicia.