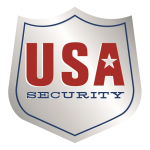 USA Security opened in 2003, as a surveillance boutique and has grown into a leader in full security systems integration, included but not limited to video, card access, intrusion points, wireless technology, etc.  Specializing in custom security solutions,  we strive to provide exceptional technical support, high levels of professionalism, and integrity in everything we do. Our in-house project management, installation, and service staff are fully certified and licensed, keeping up-to-date on new advanced technologies.
Today, USA Security works with a variety of public institutions and private industries including: Public and private K-12 education, gaming, sports and entertainment facilities, convention centers, city administration, hospitals; bringing cross-sectional experience and best practices to each new customer. Our goal is to develop a long-term partnership, above a vendor-client relationship.  To develop that relationship, we are excited to offer specialized contracted discounted pricing on surveillance and card access products and service levels through the CPC, and will continue to work with the CPC to continue to introduce new security and surveillance technologies trending and available today.
Click here to find out more or contact USA Security for a more information.