Who We Are
Cooperative Purchasing Connection (CPC) is the purchasing program of eight service cooperatives that were created by, but are not directly funded by, the Minnesota Legislature. Our award-winning CPC Team is made up of public, nonprofit employees who excel at helping CPC members and participating agencies navigate the public procurement process. We primarily serve local governments, schools, and nonprofits in Minnesota, South Dakota, and North Dakota but most similar organizations in the United States can become participating agencies at no cost.

What We Do
CPC helps members and participating agencies purchase products and services while remaining compliant with local, state, and federal procurement statutes and regulations. We do that by entering into competitively solicited contractual agreements with vendors who are able to provide exceptional value and service to members and agencies in Minnesota, South Dakota, and North Dakota. Some vendors are also able to provide value to participating agencies in other areas of the United States.
Our Contracts
CPC offers a wide variety of vetted vendor contracts ready for you to use. When you use our contracts you are meeting state procurement rules, securing high value for your organization, and you can move forward on your project without having to go out for your own competitive solicitation. And the CPC Team supports you through the whole process!
Local & National Vendors Make Up CPC's Growing Portfolio
Technology
Facilities & Grounds
Supplies – Office & Classroom
Athletics & Phy Ed
Books
Copiers & Printers
Fleet
Food & Kitchen Supplies
Furniture
Health & First Aid
PPE
Professional Services
Security & Safety
Software
Why Choose CPC
Contract Value
CPC contracts provide significant discounts and value on quality products and services.
Relationships
The award-winning CPC Team has a deep understanding of members & their needs. Our public-to-public relationships are based on individualized, cooperative support.
Contract Offerings
CPC's broad contract portfolio includes a large number of National and Regional Vendors – and we continue to grow!
Local Economy
Know who you support!
CPC's vendor fees support programs of public, nonprofit service cooperatives.
---

Shop Our Contracts Online!
CPC provides free to use online marketplace, Express!
Your organization can use Express to purchase products and services from multiple vendors with one login and password. Competitively solicited contract discount pricing is displayed directly in the platform and there is no reference code needed when you transact!
Express integrates with most popular school finance software platforms. The CPC Team is available to help with that process!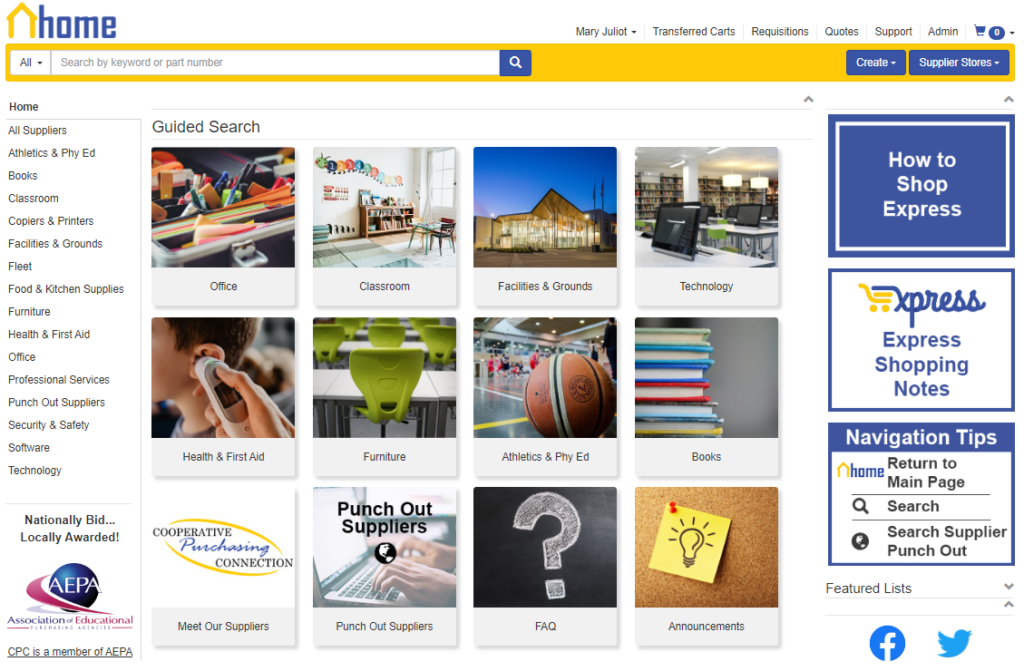 ---
About CPC
by CPC