TETRIX® PRIME comes with everything teachers need to bring robotics to life in the classroom.

Whether engineering or programming robotics is your primary focus, we've got options to meet your needs. Designed for ease of use, PRIME enables students to assemble robots and get them moving within a classroom period.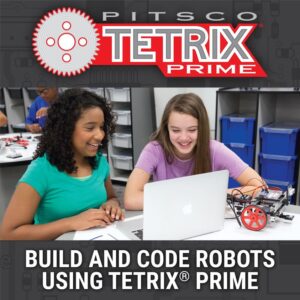 NEW: TETRIX Ardublockly Web App
Our new TETRIX Ardublockly web app makes it easier than ever for students to program their PRIME robots using block-based code.
Created by Pitsco for exclusive use with the TETRIX PULSE® controller
100% web based; no software installation is necessary
Use the app in Google Chrome and Microsoft Edge browsers
Compatible with Mac, Windows, and Chromebooks (one USB-A port required)
Accessible anywhere with an Internet connection
Learn more about CPC's contract with Pitsco →