From School Specialty:
Abilitations and School Specialty are committed to enhancing the lives of individuals with special needs. We strive to offer the most comprehensive assortment of products and solutions for your members. From theraputty to fidgets, weighted blankets, swings, and more, we offer the most effective special needs resources and solutions available. School Specialty also provides Special Needs furniture solutions. From sensory rooms to classroom corners, find an extensive selection of products and ideas to fit your members' needs and budget.
Utilize the attached Sensory Toolbag Sell Sheet to help your members find curated sensory products plus an Abilitations bag to store items for special needs students in early childhood, elementary and secondary. 
Click the image to view the entire brochure [pdf]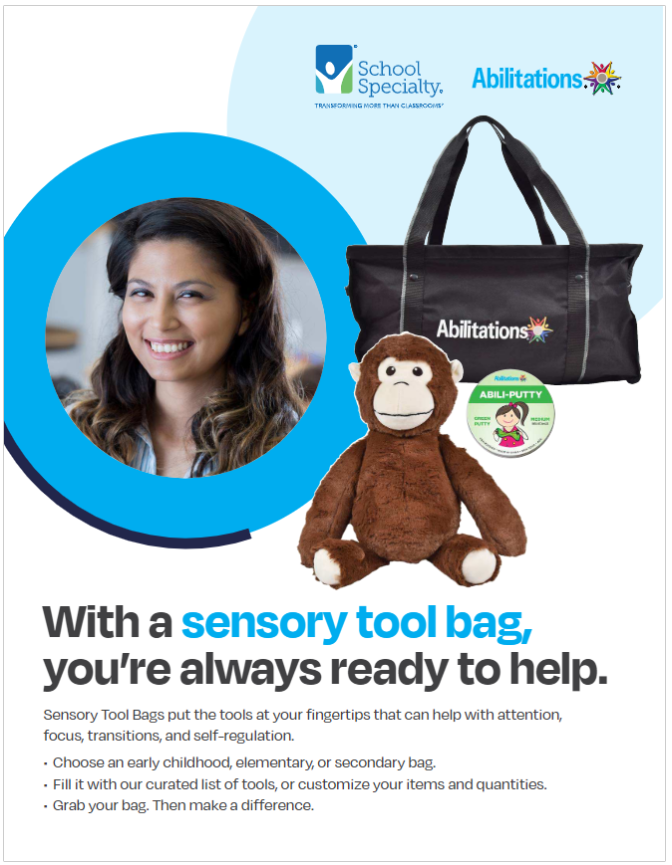 The Special Needs High School Secondary Brochure is a great resource for your members to support special educators, occupational therapists and physical therapists for high school students transitioning into adulthood.
And don't forget, ONLINE orders qualify for additional 1% annual rebate! Start earning your rebate after $7500 of online supplies and furniture purchases. Continue to earn on all subsequent orders. ALL purchases made online throughout the calendar year (via our website, your marketplace or the district's online ordering portal) receive a 1% rebate directly back to the customer next year.
Click the image to view the entire brochure [pdf]