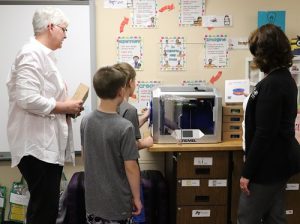 Beth Sletta is a winner. She teaches at Jefferson Elementary in New Ulm, Minnesota and, after just a few minutes in her classroom, you will become immersed in her winning ways.
Her young students look up to her with such enthusiasm! Enthusiasm that grew after she won a Dremel 3D Printer and MyStemKits curriculum from Konica Minolta. The company is a participant in the Cooperative Purchasing Connection program. CPC helped promote the contest Sletta won.
"I didn't think it was really true," she said after learning she'd won the printer and curriculum. "I tried to write a creative essay to increase my chances."
Sletta wrote in part, "I teach over 650 students in the STEM lab and schoolyard garden. My mind is spinning as I imagine all the ways students could use the 3D printer to enhance and extend their learning in both of these environments.
For example, first grade students currently build different bird beaks with paper cups, pipe cleaners, and other general materials. It would be amazing to extend this lesson by having students plan and print more sophisticated bird beaks with a 3D printer. These realistic renderings would help students understand the concepts related to this unit more clearly.
As I look through the ideas on the Dremel Dreams lesson plan website and MySTEMKits I understand how tangible models printed by a 3D printer can help bring math to life. Geometric shapes, measurement tools, and models of place value are just a few of the items that could be printed to help my students gain a better understanding of math concepts."
The New Ulm school district is a member of the South Central Service Cooperative. Cindy Ehlers, SCSC Purchasing Director, visited Sletta to personally congratulate her. Two of Sletta's students, Zach and Carson, eagerly showed Ehlers how much they love the new printer. Sletta says the fourth graders know more about how the printer works than she does!
That will change as Sletta gets the printer ready for action. She says she loves innovative, new things and is confident she will make great use of it. She offered to show other CPC members what they create so stay tuned.
For more information on how your school can get a discount on a Dremel 3D printer through the Konica contract, call 888-739-3289. For more information on all contracts available through Cooperative Purchasing Connection go to www.purchasingconnection.org